Creating Wunderlist for Windows in a design driven startup.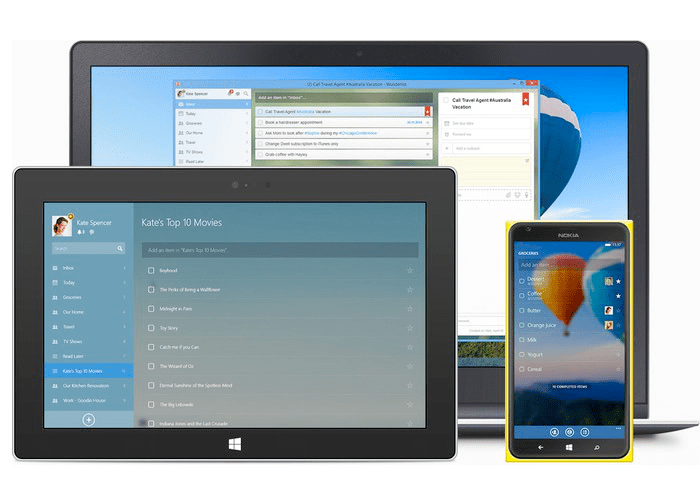 That's what the windows team at 6Wunderkinder has been doing for the last 1,5 years. From a WPF app in 2013 to a universal app in 2015. Ready for Windows 10 of course. How do you build an app like that? What do you need to do with designs that were created by Apple-oriented designers? How much code can you share with Android, Web and iOS developers? And if you cannot share code, what can you share?
You can hear about it when we talk about it DWX2015

Actually, me and my colleague Chris Lang prepared two talks for you at developer week 2015 in Nürnberg:
1) Navigation und Life Cycle Management für Universal Apps
Tuesday, 16.02.2015, 09:00-10:00
Wie reagiert deine App, wenn sie über Pinned Tiles, Notifications oder das Activity Center gestartet wird? Kann sie ihren Zustand wiederherstellen, nachdem sie vom System suspended wurde? Was passiert, wenn plötzlich Cortana deine App startet? Universal Apps haben unendlich viele Einstiegspunkte, die alle in App.xaml.cs bedient werden müssen. Wie werden wir darüber Herr, ohne den Überblick zu verlieren? Mit bewährten Ansätzen aus dem Web rücken wir verschachtelten if-else Konstrukten zu Leibe und ersetzen sie durch eine zustandslose URL-getriebene Navigation.
2) Windows-Entwicklung in einem design-getriebenen Startup
Wir befinden uns im Jahre 2015 n. Chr. Das ganze Büro ist von Apple-Usern besetzt… Das ganze Büro? Nein! Ein von unbeugsamen Windows-Entwicklern bevölkerter Raum hört nicht auf, der Übermacht Widerstand zu leisten. Und das Leben ist nicht leicht für die Apple-getriebenen Designer, die als Besatzung in den oberen Stockwerken liegen..
Dies ist die Geschichte von Streit und Versöhnung zwischen runden und eckigen Ecken, von der Entdeckung dass man auch ohne Drop Shadows ganz gut leben kann, von Rückschlägen und Erfolgen. Wir begleiten unsere Helden über Umwege, Kommunikationswege und durch Datenströme, und erfahren welche Werkzeuge und Strategien schlussendlich zum Erfolg geführt haben.
After seeing our talks you will have a better insight of how we work at 6Wunderkinder and about the lessons learned while creating a universal app for the Windows mobile platform.
Hope to see you there!