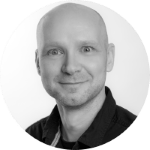 My name is Loek van den Ouweland. Passionate software engineer and trainer with 25 years of experience. Creator of Wunderlist for Windows, Microsoft Todo and Mahjong for Windows.
I helped a large number of companies to design and build software, while coaching and training their employees.

I believe that exchanging knowledge is a vital part of a healthy work culture so I speak at conferences, publish on my blog and teach professionals how to build apps with Python, Javascript, Unity, XAML and C#. Also as creator of community sites like www.extensionmethod.net it is my goal to share know-how.
In 2019 I founded Aliens Bring Change, a game studio in Berlin, where we create beautiful games for KaiOS and Windows 10.
An excellent user experience is always in the center of my work because I'm convinced that intuitive and easy-to-use apps are used more often and will be the ones that survive in the market.
On this website I write about the technologies that I work with, like Javascript, Python, Rust, HoloLens, Visual Studio, Unity3D, C#, Git, HTML, my work on Wunderlist and Mahjong Solitaire
I worked for great customers like: