dISABLE cAPS lOCK.
Most people don't care about the Caps Lock key because most text processing applications turn the Caps Lock off after the first character. But typing in code or passwords can be a problem if your Caps Lock is on. After switching from an electronic type writer to my first PC I never ever needed the Caps Lock again since it has other ways to emphasise text.
So why is it still on my keyboard in 2009? A few years ago I started to remove this key from my keyboards with my personal Caps Lock key remover: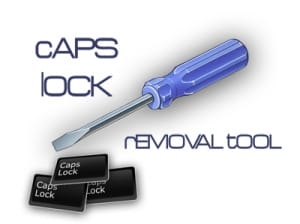 I had quite a collection of Caps Lock keys and never accidentally typed an All Caps sentence again. But what are you going to do when you sell or give away an old laptop? Find the keys? After a lot of key searching I decided I need another solution to disable the Caps Lock key.
Solution
I found a great registry setting that disables the Caps Lock key:
[HKEY_LOCAL_MACHINE\SYSTEM\CurrentControlSet\Control\Keyboard Layout]
"Scancode Map"=hex:00,00,00,00,00,00,00,00,02,00,00,00,00,00,3a,00,00,00,00,00

If you want to add it to your registry, open this DisableCapsLock Zip file and double click on DisableCapsLock.reg. Reboot your PC and bye bye Caps Lock!