Using a shortcut to export from Pixelmator.

The great Pixelmator for the Mac has no default shortcut to export images. This short tutorial shows how to use the OSX system preferences to add a shortcut to Pixelmator.
Close pixelmator
Open system preferences and click the keyboard icon

Click on the Keyboard Shortcuts tab
Select Application Shortcuts
Add an application shortcut with the + button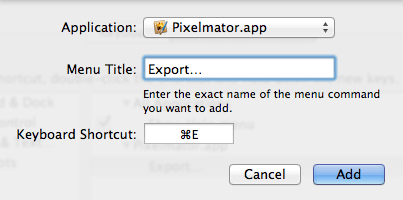 The Menu Title contains an ellipsis character.
To type this character, use Option + ;
Choose a Keyboard Shortcut and press Add
Open Pixelmator and click on the File menu.
The Export menu item now shows the shortcut and is ready for you to use!